<!THIS IS THE LEFT MARGIN BLOCK-->
<!THIS ENDS THE LEFT SIDE--> <!THIS IS THE TEXT MIDDLE SECTION-->




A Furniture Legacy
I create fine art furniture with organic style. I thrive on custom furniture design, enjoying new directions from creative, challenging commissions. My studio is in Portland, Oregon, but my furniture can be shipped nationwide and beyond.

I design so that working forces are absorbed and balanced by an underlying geometry. Like origami, inherent strengths are maximized without relying on bulk or mechanics. In this way, lightweight forms can support hundreds of pounds while using less material.

The resulting style incorporates light, color, and texture with strong sculptural elements and thoughtful use of negative space. The intention is humane furniture...enhancing our lives while honoring nature and the world.

I call this type of woodwork 'Legacy Furniture' because pieces are sustainable on all levels. Each is made from the finest, thoughtfully harvested materials, crafted to last longer than a replacement tree would take to grow. They are designed and built with a specific client in mind. This adds to their meaning and history as they pass between generations.
<!ADD IN THE SIGNITURE-->

<!END OF THE MIDDLE SECTION--> <!THIS IS THE RIGHT SIDE AREA-->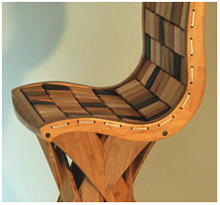 Scott Stewart Designs | Portland, OR USA | 503.481.1355
copyright 2000 - 2012 | ScottStewartDesigns.com